---
Some thoughts about frets

Fretwire

size

has no real effect on intonation, but it has everything to do with playability. Taller frets make it easier to get clear notes: less finger pressure is required, a fact that some people don't notice, but which makes a life-and-death difference to others. Some folks really like teeny frets, but more and more makers, following the lead of the players who showcase their instruments, are going for larger frets than Gibson has ever used.

Taller frets also last longer as well because you don't have to press so hard to get a clear note. Again, some folks have to adjust their touch to take advantage of this. But you don't need to press your finger to wood to get a clear note.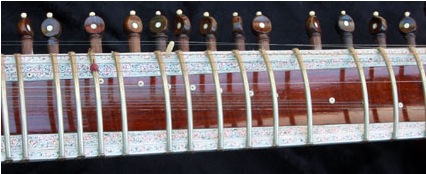 Mandolin

I keep about 20 different wires for different applications, but for mandolins I have used mostly the old Dunlop 6280 or the Dunlop 6230 mentioned above. I'm keeping my old 6280 for partials now, and am moving to Jescar's 37080 and even their 43080, and for a more minimal look, 37053 (in EVO). Stew-Mac's 147 and 148 wires are also hard to beat.

The typical vintage Gibson mandolin fret, at .034" wide and .032" tall when new is, to me, absurdly small. Most (though not all) of the serious pro players in my mandolin clientčle prefer much heftier ones, such as the Dunlop 6230 or the lamentably extinct Dunlap 6280 (it was really close to 1930's Gibson guitar frets). The old Dunlop 6280 was .076" wide by .044" tall. I wish it was still available, I like that size better. Both are about the same height, but the 6230 is a tad wider and feels different. Jescar makes a wire that seems to have all the answers though, their 39040 (in either 18% NS or stainless), it's .039" tall by .040" wide. That's practically half-round. For folks who prefer really narrow wire, as in the days of yore, I use Dunlop 6310.

Stew-Mac wires are made in Japan and are a bit harder than the Dunlop wire. And some by Jescar, made in Germany, are different than anything offered by the other people. With the exception of stainless, which I don't care for at all, the bigger and/or harder the wire, the more trouble it is to install, but the longer it will last. I believe it's worth the effort.

Guitar

My standard wires for my serious guitar clients are, at the very least, Dunlop 6230
*
, at .043" tall and .078" wide or Jescar 's 43080 EVO wire which is nearly identical. Going a little larger, Stew-Mac's #155, a very fine 18%+ nickel wire which is .080" wide and .050" tall. These are fairly narrow wires, not like "jumbo" or electric bass frets anyway, but quite tall. They seem to frame the industry standard for guitars.

A number of folks, particularly in the gypsy guitar world, are turning to the Jescar 57110, .050" tall by .110" wide, which comes in nickel, stainless or EVO gold, which is hands-down the most durable wire on the market, better than stainless, and infinitely easier to work with. My experience with this wire over the last few years has been a real revelation.

Banjo

There are so many different sizes of available fretwire—not to mention what has been used historically and how the various sizes and types are used these days—that the term "banjo wire" means next to nothing. It's like talking about "rosewood" - another vague and extremely subjective term. I prefer more precise descriptions instead: the crown height and width, the alloy makeup, and to some extent the work-hardness.

Some players want narrow, others want wider and taller. I deal with a couple of these each week, week in and week out, and I do what folks ask for. The skinny frets seem to be favored by players who, for one reason or another, are reluctant to break with the old

look

. Often, once they've really tried wider and taller frets however, they see they're easier to get around on and last longer, and then they make the jump.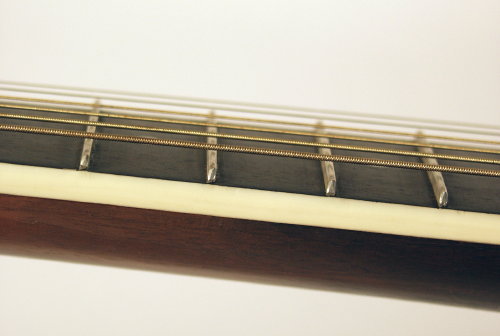 Speaking of which...

These are Lloyd Loar's "Fairy Frets" which were used on his Viva-Tone guitars. It's the notion that 'a higher fret is easier to play because getting clarity requires less finger pressure' carried to an extreme! I have only played on these a couple of times. I suppose I could adjust to them, but doubt I'd really want to try. I'd have loved to hear Lloyd Loar play them though!

Digressions

Another factor in regarding fretwire is how people's playing touch can change over time. Years ago I refretted a mandolin for a guy who had bought his mandolin new in 1955 or so. By 1985 he needed a refret real bad. I did it with fairly similar wire (medium height and width) and within six months he was getting real anxious about how the new wire was so soft and showing wear already. I explained that the wire I used was 18% nickel, the hardest available. Dubious, he said "It must be made of lead solder!" To prove his point, he took one of his original frets and some of the new stuff I'd used and had them assayed at a lab. The original was 11% nickel and the stuff I used actually came in at over 19%. What had changed was that the

guy

was older and his touch had changed. I've found that older players generally squeeze harder. Squeezing harder causes more/quicker fret wear. (I guess I'll have to be more careful, now that I'm heading into those final laps myself!)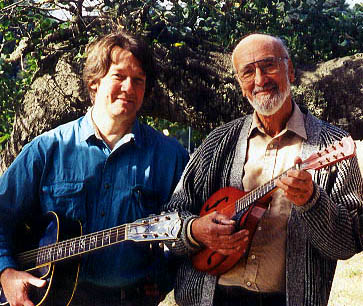 Another little anecdote. My main playing partner for many years was a wonderful Sicilian mandolinist named Tony Flores, who burned through two sets of frets a year. Every year. He had two identical mandolins, and he played hours and hours every day, and he managed to wear divots in every fret from 1 to 11 under all four courses that were so deep that milling was simply not an option. These were standard old Dunlop 6280 frets: hard, 18% nickel. Imagine a "partial refret" of the first 11 frets every six months. It's a good thing he knew me! Other players using these frets (myself included) get way more use out of them because of how they/we play.

Milling and dressing

You may need to mill and dress frets when they're freshly installed to get rid of minor buzzes and so forth, to make them feel smooth under your fingertips, but milling is not a great idea to make cosmetic divots go away.


Fret milling as a routine maintenance procedure is so, um, Sixties. When you do it, you lower all the frets to the lowest point of the most worn fret, and in most instances, that's just a few frets. All you accomplish in milling old frets is a look, at the expense of a lot of fret life, and you increase playing difficulty, for no good reason. I'd like to think the state of the art has advanced some since then.

If one or two (or a typical situation where frets 1-5, or maybe 1-7) are so worn they are causing audible or physical playing problems, I replace only the bad ones. In other words, if you notice that the frets are wearing in spots only because you can see the wear (but you can't feel or hear it), keep playing and save your money for getting the frets attended to when it really needs to be done. Replace them only when they're not working right anymore.


---



Sources:




Resellers:


This is not intended to be an endorsement of anyone. There are other good wires available, but these are the main ones I know of and deal with in the US. These are not the entire offerings of the suppliers noted above, merely what I thought was important.

If you have comments, or corrections, please drop me a line.

Here's a simplified old Dunlop chart from the days of yore. Their sizes have changed a bit, though I have never found their specs to be
very reliable, even within a single roll.