National Mandolin Prototype 1/3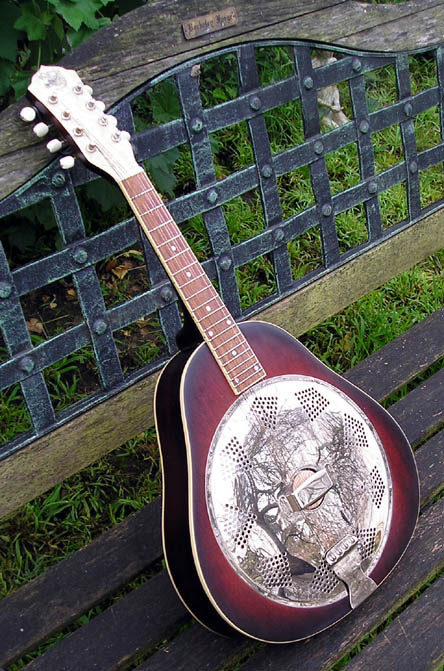 This is one of three prototypes of a National mandolin that I made for National Resophonic sometime in the 1990s. All three were made in one batch for Don Young and MacGregor Gaines at a time when they were making only wood-bodied National guitars and their early Resolectrics. It was a repro of an imagined predecessor. More about this farther down the page.

One of the other two of my prototypes was in a charmingly bilious pale green that was one of their standard color schemes at the time for the Islander guitars, and the third was in a rather intense Revlon red. This one got the standard sunburst finish of that era.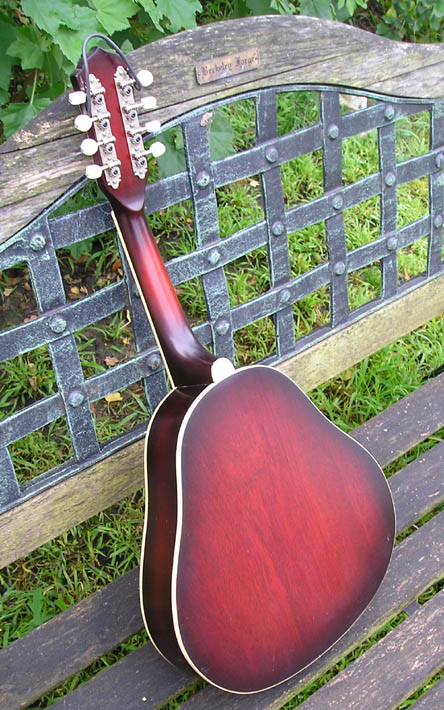 The bodies of all three were of a very high-grade mahogany plywood, and this is the only one that had natural wood grain visible at the end of the line. I made the bolt-on neck for this one from black acacia, a non-native tree quite common in California. It's very hard and stable. The binding on this one is grained ivoroid.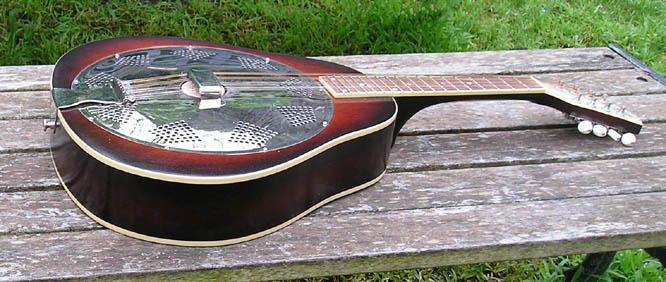 The original idea was to develop and tool up for a single-cone mandolin that I would produce for National as a contractor. My friend Bob Brozman and I had played a few NAMM shows for Don and Mac, demoing their instruments amidst the NAMM din, and in the many conversations that ensued, I encouraged them to revive the National mandolin. They were all for it, of course, but were pressed to the limit simply making guitars. So we thought I might take the project on.
Again, at the time, there was no knowledge of any wood-bodied mandolin in the fossil record of National or any of its spawn. In fact, it seemed that the only National instrument of any kind that National had never made in wood was the mandolin. Since then, a handful of wood-bodied mandolins has surfaced. Click here and navigate to the tricone mandolin frame on their site to see photos of a batch of old National mandolins, tri-cones at that, including two wood-bodied ones, laying in front. One of them looks very much like the ones I made, particularly the one on this page. These were not as early as the actual mandolin prototype, which was metal.

My handmade prototypes were intended to be fairly faithful copies of the old metal-bodied mandolins: same long 15" scale, same body shape, same everything. Except made in wood. Don Young spun cones and matching coverplates adapted to the smaller mandolin biscuit.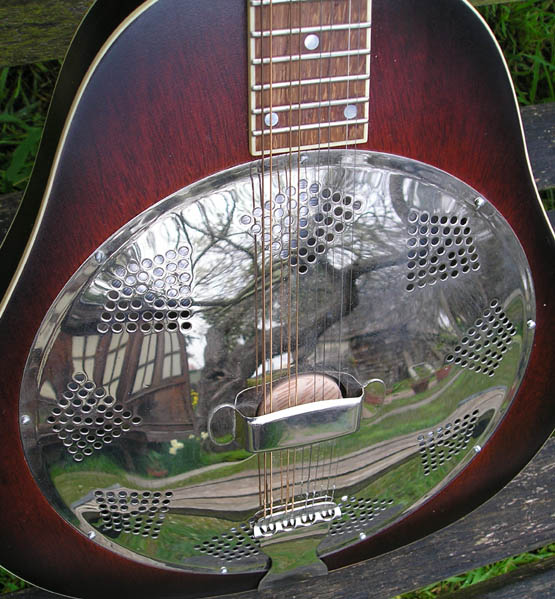 I made the bridge straps by hand and sent them down to be soldered to and plated with the coverplates. I also made a tailpiece for them, which was modeled on the originals, but was simpler. The biscuits and saddles I made from soft maple. The cone was strategically located relative to the fingerboard's scale so the saddle could be tilted (rotated) a bit and then intonated. This is a detail National never paid attention to "in the old days."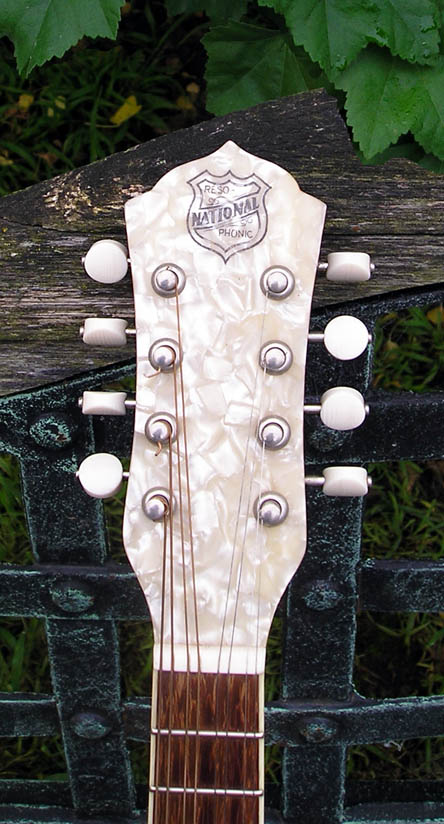 MacGregor generated some pearloid plastic headstock overlays with the National logo engraved in them, which I glued onto the headstock before I shaped them. The gears are Gotoh, with ivoroid buttons. A typically Nationalistic combination of clashing plastics! Some nice hard cases were made by Harptone.

Alas, the project never got past the R&D phase. About the time I finally had the tooling figured out and had about twenty bodies and necks built, Don and Mac were suddenly confronted with an opportunity to begin making metal-bodied instruments - a cherished dream. The diemaking process, which had seemed insurmountably expensive, suddenly became available, and affordably so, and their attention came to be entirely focused on that for a long time. In the meantime, I went off into importing French guitars, and time marched along, and the project languished.
I have been playing the mandolin on this page for years. It sounds fabulous. I own several old National mandolins, including a very early 1929 nickel-plated brass one, a mid-stream steel-body that looks simply terrible but makes a lot of marvelous racket, and a really pristine painted steel Supro with clear pickguard and tuning machine buttons from 1939, which was about the end of the line. While this wood-bodied one can be extremely loud if you play it hard, I prefer it to any of the metal ones, for its quick response and sweetness.
OK, here's something good!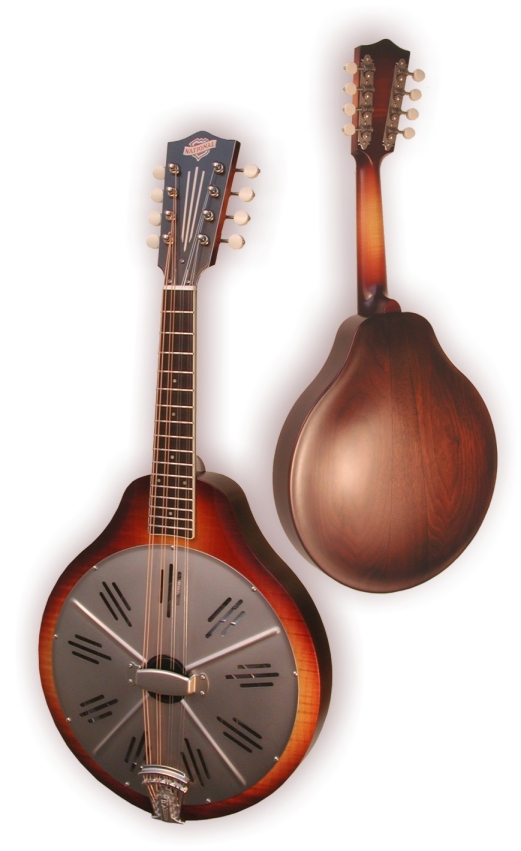 At the 2005 NAMM show, National unveiled a brand new take on the wood-bodied resonator mandolin, with a shorter (Gibson) scale and a very different look than earlier National instruments. Click here to go to the National Resophonic website for more information. It features a truly spiffy tailpiece. Which is a good thing, as the original tailpieces were not well engineered and often became a nuisance. I think these mandolins look and sound wonderful.

---
Drop me a line or something click here

---

This page © 2009 Paul Hostetter. All rights reserved.