The Santa Cruz Model H
- History -

more about the Model H-13 | pictures of some of the Batch of 15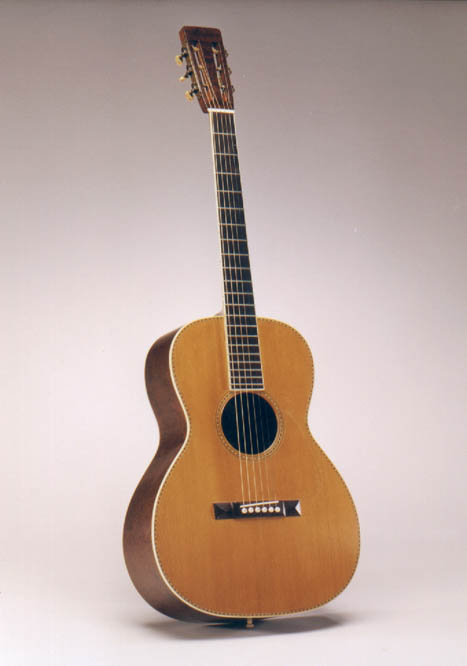 Starting at the beginning, early in 1978. . .
This was not supposed to be a Nick Lucas reissue, although my initial idea was to make an improved version of the old Nick Lucas, which was a 00-size guitar with a deep box and the wallop of a dreadnought. At the time I first pitched this idea to my pals at SCGC, in 1978, Gibson was down for the count and the model had been extinct in the wild for over 40 years. I proposed this—and the model F, based on the Gibson J-185, another extinct guitar—to SCGC in 1978 (when it was still a 3-way partnership: Richard Hoover, Bruce Ross and Bill Davis) and they went for both of them. At the time they were only building 14-fret dreadnoughts.

Three were built on this model early that year.
H-1 was mine, all koa, I renecked it twice (long story) and it escaped (another story) and lives now in Marin County. Pyramid bridge, herringbone binding, slotted headstock. Jon Lundberg loved this guitar.

H-2 was, and still is, Dan Warrick's (which was originally much like the one below, but with 12 frets). With considerable effort, he reworked its original (rather large) paddle headstock, and had SCGC refinish it when he was done, putting a nice set of tuners on in place of the Rotomatics.
H-3 was a 13-fret in koa and spruce that was last seen exiting the shop with a woman who had walked in the day it was strung up and bought it on the spot. Never been seen since. I hope she's still playing it.

All three of those were from a mold that had come out a tad too small. After some consideration, I balked and a new mold was made and we started over from scratch with H-4, which I also kept. The original three were from 1978, and the second batch hatched gradually from spring into early summer of 1979.

Here's the very first H-model, 12 frets: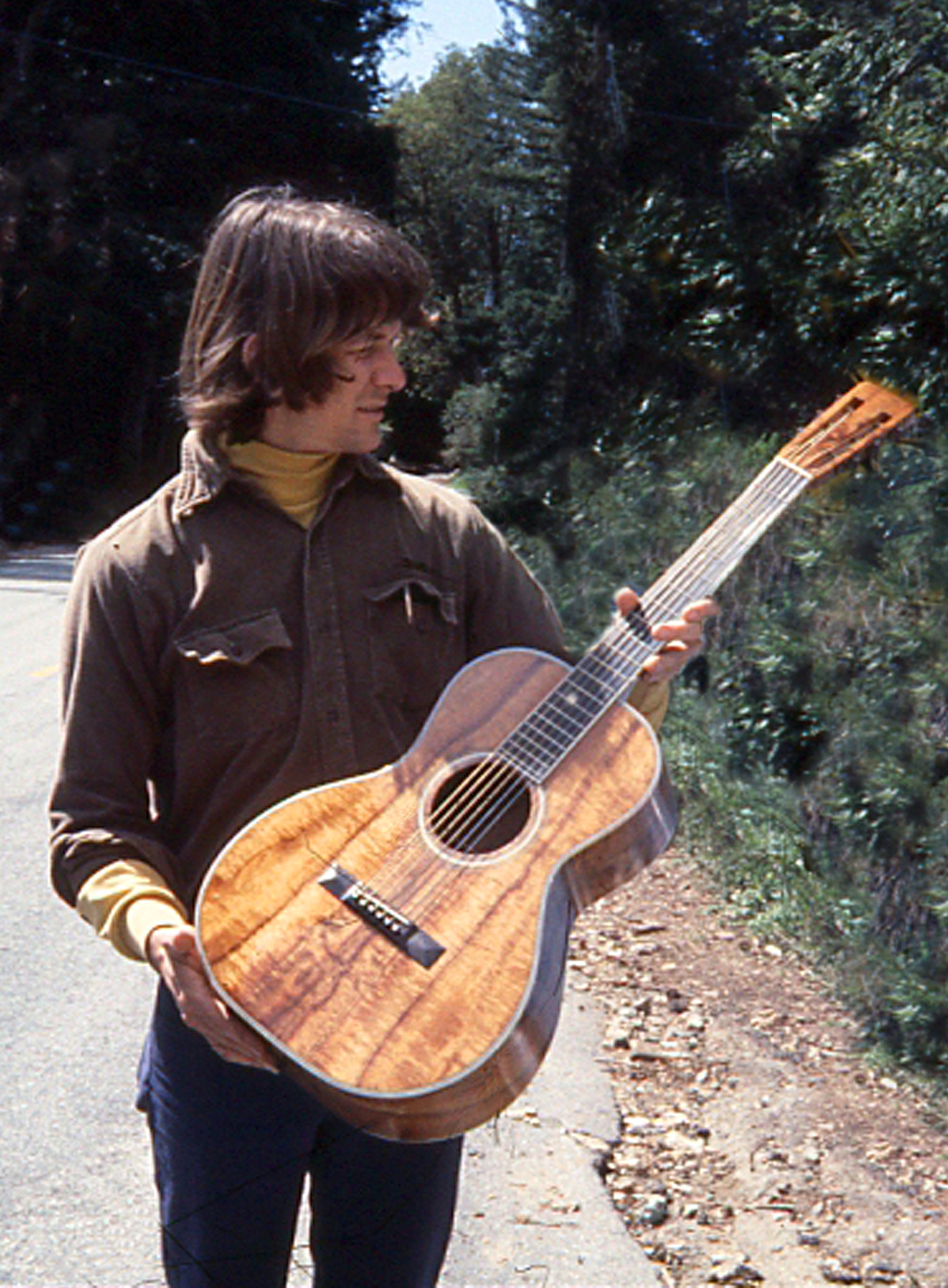 My favorite Nick Lucases had all been 12-fret ones but, preferring a longer scale, and having a chance to try one in the 1978 batch, I ultimately redesigned the guitar around the 12-fret bridge placement but including the longer scale. The eventual result was a 13-fret guitar. The longer scale gives more tension, more brilliance, and makes intonation much better. The extra body depth colors the sound in a different way.

---
The next six from 1979 that I was involved with, H-4 and sporadic numbers up to H-13 (the serial number, not the current model name), were all made in different materials:
koa/spruce
koa/koa
Brazilian rosewood/European spruce
imbuya/cedar (mine)
bigleaf maple/Sitka
Indian/Sitka
The idea was to compare materials, all else being the same. The Brazilian rosewood/European spruce was deemed the best of the batch at first, but the tortoise that won the race was the one of bigleaf/Sitka.

SCGC made production 13-frets for about a year, maybe 15 or 20 of them (Rick Ruskin played one he bought new from the Fret House in Covina; see below), then changed everything. The reasoning at that time was that 14-fret guitars were easier to sell (true) and so, following the example of Gibson in the 1930s, the model was modified by moving the soundhole up the body, and the bridge closer to the waist. The body was also made shallower, to fit easily available cases, even though it continued to be described in sales literature as having a deep body. It became just a nice 14-fret 00-size guitar.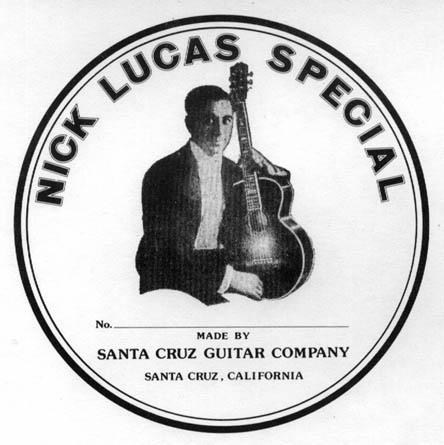 The label for the prototype run of 1979
---
Here's a photo of one of the 1979 production ancestors:

That said, they made maybe 25 custom 13 frets with the true deep bodies during the 80s and 90s. People liked the sound of that original design, which is part of why Richard was finally willing to go back to it. There was a reason for 13 frets, the depth, and the layout of the top!

















BTW, the cedar top on my H-4 was a gift from luthier Steve Grimes (who lived in Port Townsend at the time; 1st Fiddle Tunes) and from the flitch he gave me came the very first largemouth Tony Rice as well. Steve had a pal who worked in a shingle mill up the Columbia someplace who had an ear for musical chunks.
---
What is different between my original H-4 and the now-revived model H-13 and all the other Model H guitars that SCGC has made all those intervening years? Primarily the bridge and soundhole placement, and body depth, as mentioned. The amended shallower 14-fret model is a fine guitar, no doubt about it. It also makes a fine 12-fret, as with the earlier Gibson L-00. The bridge design is not terribly important, none of the aesthetic details are. A great many have been made a cutaway acoustic-electrics, and they are terrific. But I remain devoted to the sound and aesthetics (in that order) of the deep 13-fret model.
---

How did I get into this guitar in the first place? Here's the reason...but it's not Bob.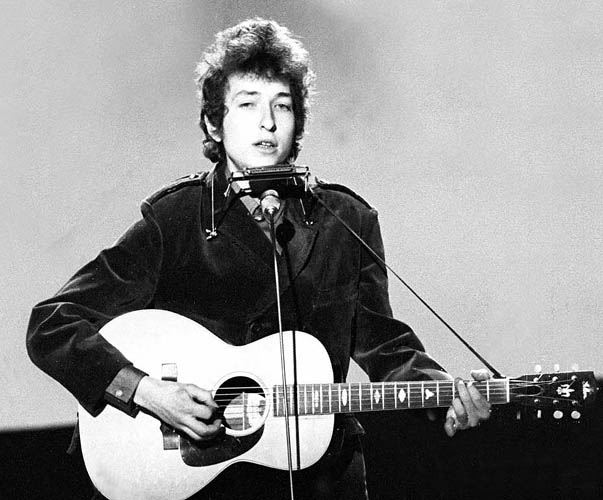 Dylan on TV in 1964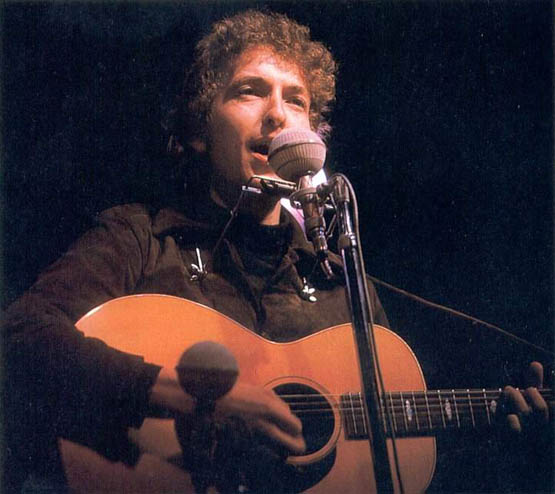 Dylan at Newport 1964
This guitar, serial number 87898, was sold to Bob Dylan by my friend Marc Silber at his shop, Fretted Instruments, in NYC sometime in 1963. It replaced Dylan's old Gibson J-50, which was, Dylan told me personally, lost in action. It's a 13-fret rosewood Nick Lucas that had been refinished blonde, and had had a Guild-type bridge and a Martin-type pickguard put on. It had earlier belonged to Marc's sister Julie. Marc and Julie and their family are old friends of mine from Detroit, and I knew this guitar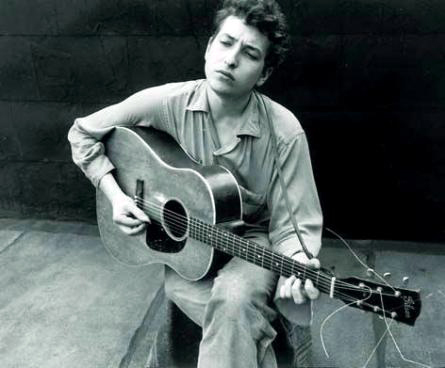 before Marc sold it to Bob Dylan. (Julie also turned me on to some 78s of Nick Lucas playing his guitar - he was a crooner and the hottest pop guitar icon of 1925. He was also an astounding guitar player). It was a lovely guitar in all ways, and kindled my enduring interest in the model, well before Bob Dylan ever laid eyes on it. The first time I saw Bob Dylan perform live, in Ann Arbor before his first album was out, he was playing that old J-50, the one on the cover of his first album.

In January of 1964 I saw Dylan perform again in Denver, and he played this guitar. He stopped by the Folklore Center (where I worked then) after-hours the next day, and he told me that the J-50 had gone missing, but I never connected the fact that the new guitar he'd played the night before was Julie's old Nick Lucas. It was a mongrel but it sounded great.

I have one just like it myself, photo here.
---
Here's Nick Lucas with a couple of the real early Nick Lucas models: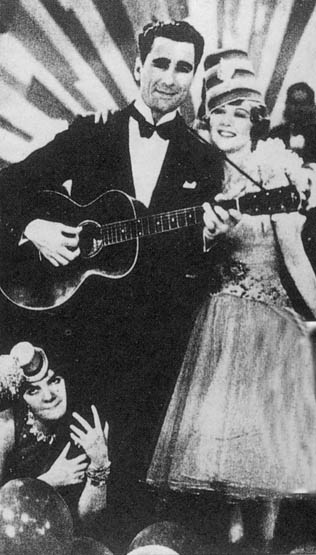 12-fret dot neck, with babes;
From the Gold Diggers musical revue of 1929

I like the rather demented-looking gal clutching his leg.

In January of 2002, the Santa Cruz Guitar Company made a model H to about 99% of my original specs as a 25th Anniversary model. It was presented at the NAMM show in Anaheim as part of a trio of instruments that all went to a dealer in Hawai'i named Kelvyn Evans. I was extremely delighted and honored that Richard Hoover decided to include le modèle H in that offering, whilst bringing it back to being the guitar I had originally envisioned back 1978. This is the template for the model now known as the H-13.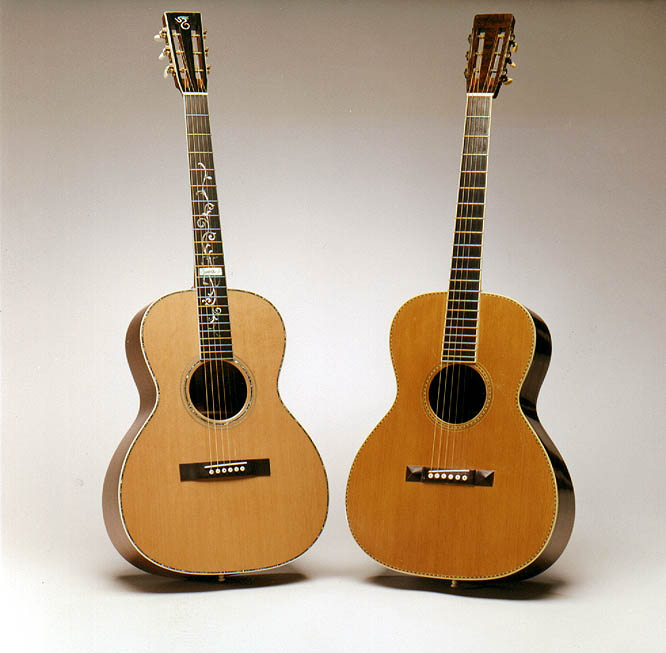 Shop genius Adam Rose borrowed my H-4 and painstakingly copied just about everything about it, reinstituting things like 13 frets, bridge and soundhole placement, brace dimensions and body depth, all of which had been considerably changed in the standard H of the previous 23 years or so. A minor current change was that my H-4 had a 25.6" scale (which was SCGC's standard fret scale at that time, a Gurian board), and the new one was recast to a more conventional 25.4". Much as I prefer the 25.6" (or better yet, 25.75"!), it's not that big an issue. Likewise, the NAMM item, above, was dolled up way different than mine, and its neck width was a tad narrow for my hands, but it sure felt like my guitar, and sounded lovely.

Seizing the moment, I realized I might have one shot at seeing a short run of these guitars made for me and some friends where I could bird-dog a few details such as fingerboard overhang, saddle angle and intonation stuff, darts and minor aesthetic things. The point was to get a batch through with a particular eye for detail, and hopefully do some R&D work for SCGC in the process.

More about the Batch of Fifteen of 2003
---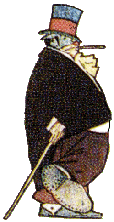 Questions? Questions?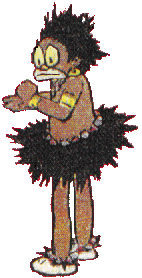 Drop me a line: click right here!
more about the Model H-13 | pictures of some of the Batch of 15 (several pages)