Rosette details
Here are a few close-up glimpses of Selmer and Dupont rosettes: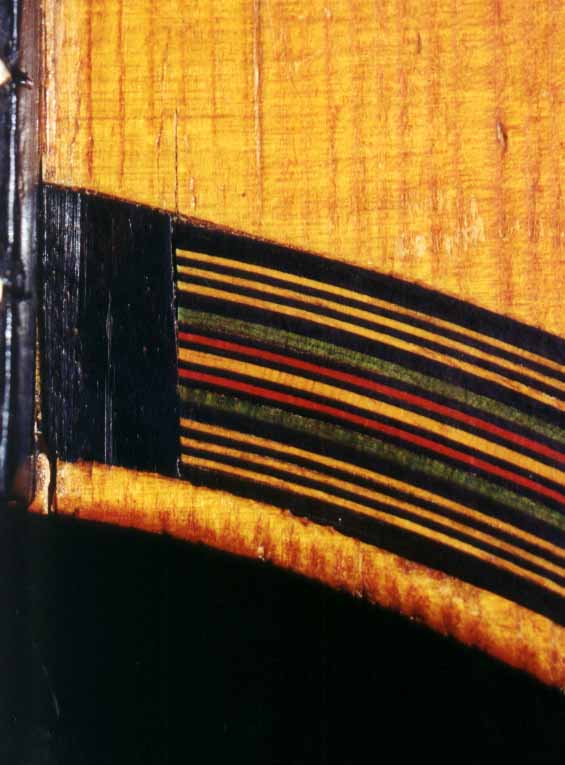 There are 31 lines in this rosace - fifteen mirroring each other on either side of the center line. Can you see them? (Some are doubled).
The green lines were blue; a combination of age and yellowing of varnish over them has filtered the blue to green.
This photo is from a very rare grand modèle quatre cordes. The basic body was the one used for six-strings (and the Eddie Freeman), and the ebony inserts next to the fingerboard fill in the missing part of the rosette that would have been covered by a normal six-string fingerboard.
---
Here's a detail of the rosette for the Dupont modèle John Jorgenson: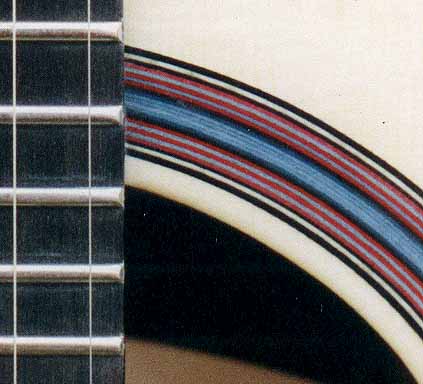 Here's a closeup of the Dupont oval hole rosette (left) and an unusual one that Selmer used briefly in the late 40's: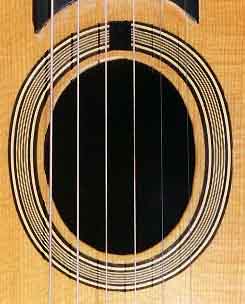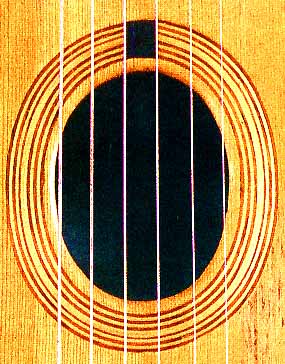 The unique Selmer rosette used eleven simple layers of natural maple and rosewood rather than the more customary fifteen (some doubled) maple and dyed black veneers. The body bindings matched, a nice look. This is the guitar on the flyer for François Charle's Selmer Maccaferri book.




---
Have a topic you think is worth some discussion here?
Drop me a line click here

This page © 1999-2011 Paul Hostetter. All rights reserved.