Here's something to read while you wait for the pictures to load...

I like picks. Plectrums: flatpicks, mediators, straight picks, fingerpicks, whatever you call them. They're all tools, and like any other tool, I revel in their individuality, and that every player has different ideas of what works. It means everyone is different, and I find that reassuring.

So I have made a page or two on just flatpicks, with the eventual idea in mind that you can make them yourself.

I've tried lots of different kinds of picks, including commercial ones, extinct ones, ethnic items, and so forth. I usually make my own picks for guitar, although for mandolin, I find a good old Fender medium hard to beat. For guitar I like something a little bigger and harder, and a little different than what's on the market. For laouto (it's Greek to you) I use a risha, which is a little bit like a collar stay.

Here's how a couple of picks came to be, and a few ideas of how to make a pick that works, or how to adapt commercially available ones to make them work better.

Here are some regular picks: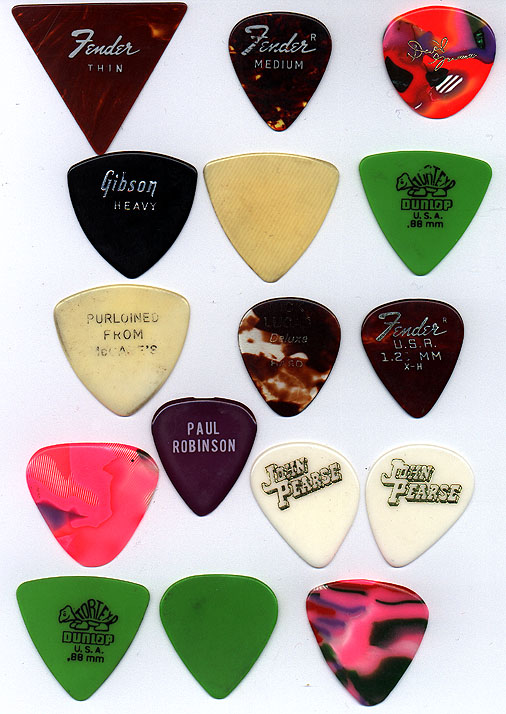 Some of the good picks are merely adaptations of older (or other) ones.
_______________________________________
Here is a classic pick, from the pioneers of commercial pick manufacturing, D'Andrea.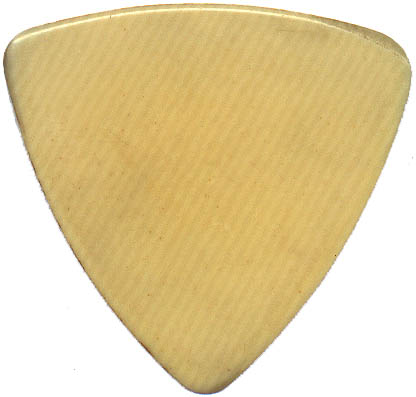 It's a nice ivoroid item, referred to in company literature as shape #346. It's a big triangle.
D'Andrea also manufactured a smaller pick, the #351, their flagship design: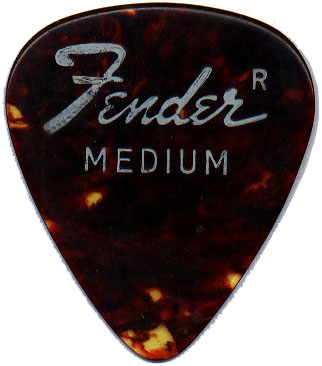 It's also known now as the classic Fender pick. Thin, medium, thick and extra.
It's the most popular pick shape in the world.

Here's another D'Andrea pick, #348, almost the #351, but a little rounder on top: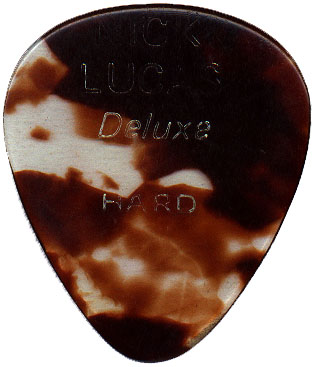 Can't read it anymore, but it once said:
Nick
Lucas
Deluxe
Hard

Note that the Deluxe was the #348 shape, and the "Standard" is the #351 shape: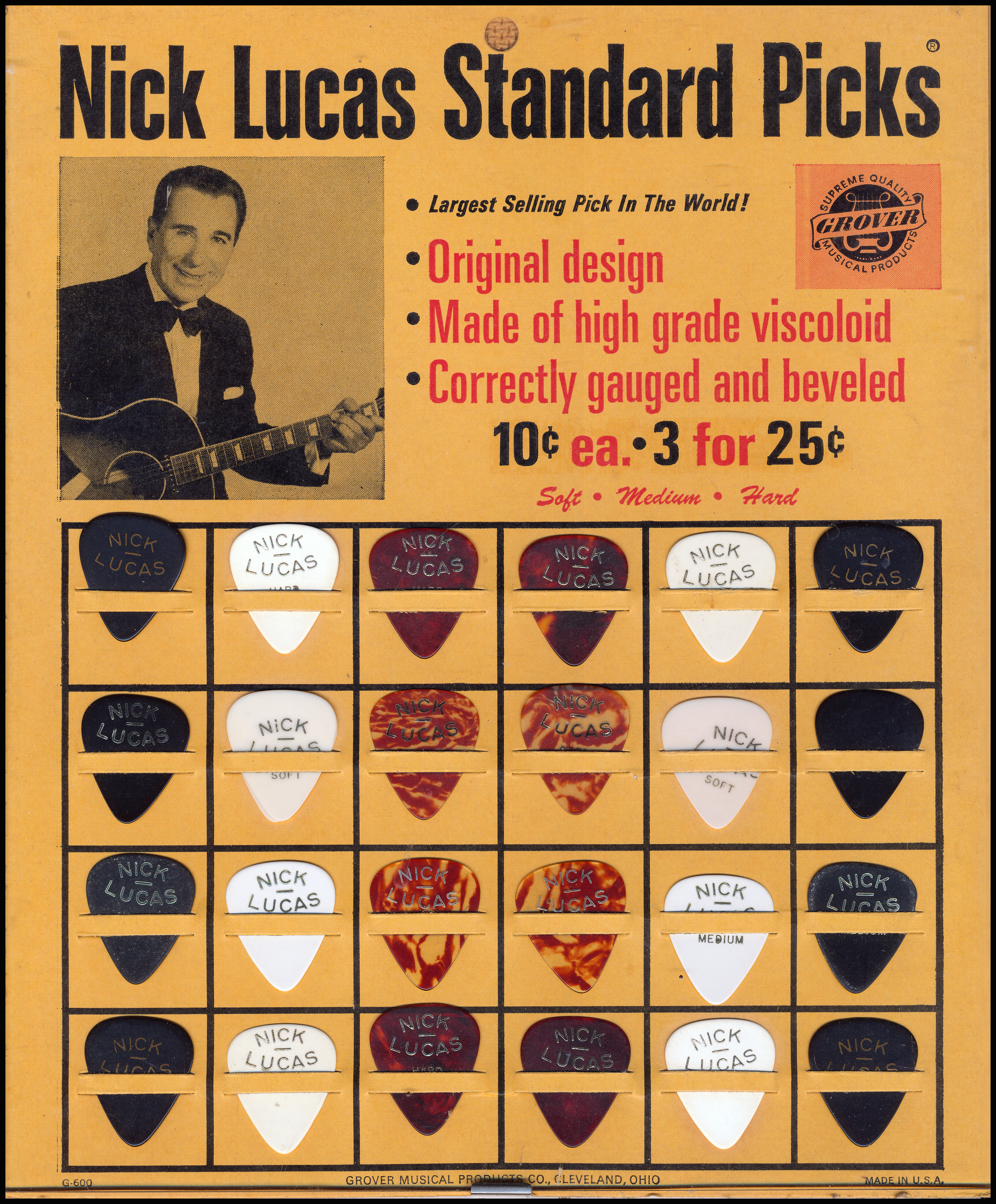 A lot of people use these picks, and a lot of people have learned you get a real different tone depending on which corner you play with. Many folks prefer the tone you get from the two upper, rounder corners.

Here's a Herco company equivalent to the D'Andrea #346: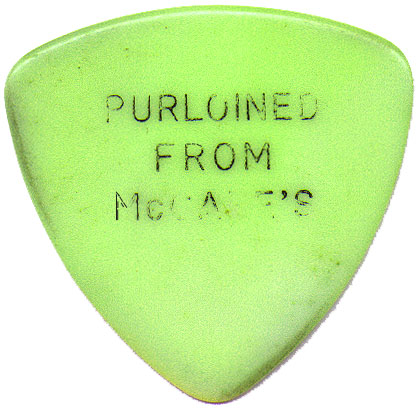 McCabe's is a real nice music store in Santa Monica, BTW.
Compare these three big picks: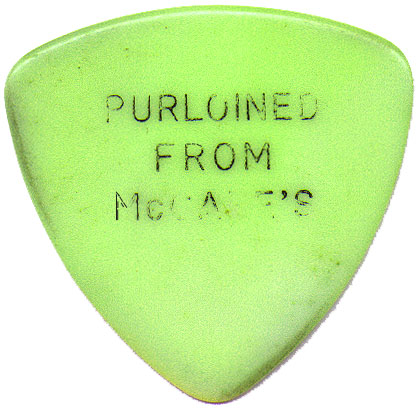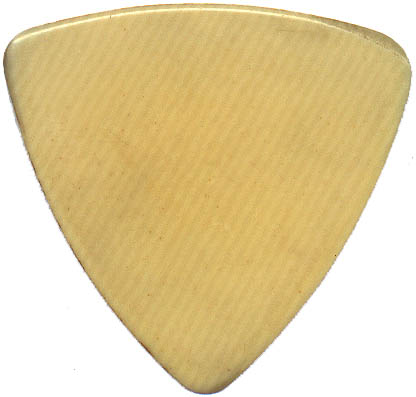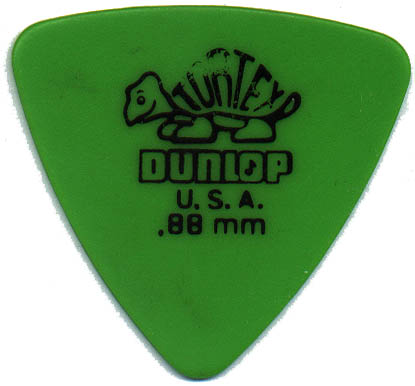 Each is a little different. The old Hercos are the same as Gibson, the D'Andrea is the same as Fender, because that's who made them on contract. The green Dunlop Tortex pick is obviously modeled on the D'Andrea pick, but made in Delrin instead of celluloid. Slightly different shape too.

I like the thickness of feel of this big green pick, it's very
close to real tortoiseshell, but the points are too pointy, so...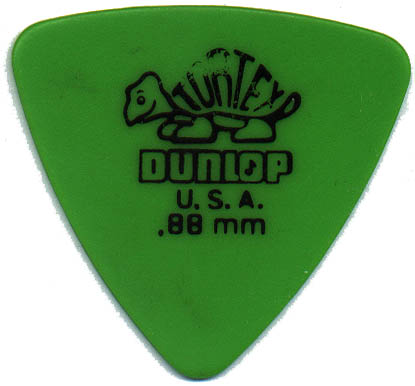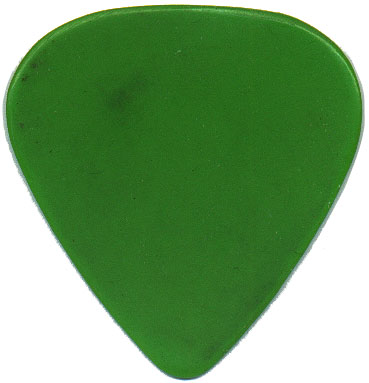 ...what I did here was reshape two of the three points to be something like
the D'Andrea #351, above, only bigger. I play the more rounded corners, not the point,
and that gives me a bit more surface area (because of the one long point) to grip the pick better.
Don't you hate it when your pick falls inside your guitar?
_______________________________________
David Grisman did more or less this same thing years ago, and actually got someone (Saga, at first) to market them for awhile under his name. Here's his commercial pick (rare edition in clownbarf) next to one like he started with: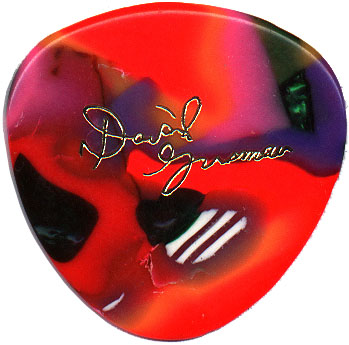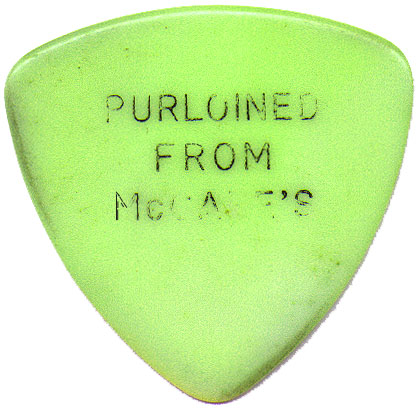 Both are beefy celluloid picks. One just has all three points reshaped, about equally.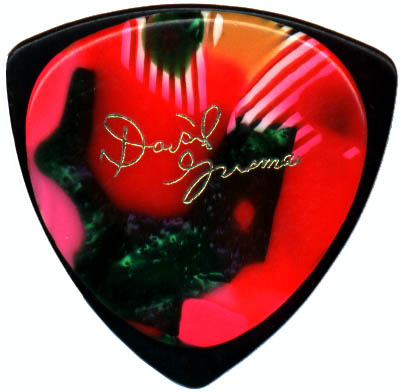 Here it is, laid over a Herco/Gibson large triangle. I suspect David started
with a pick just like this and reworked it into a shape he liked.
Maybe he just played it until it got to be that shape!
The Saga Grisman pick is no longer available, but the identical pick is
now marketed without his name under the name Golden Gate.
They are made in Japan by Pickboy. Johnson of China has a version.
No matter who makes them, they seem to cost a lot, because they are fashionable.
You can take any extra-hard large pick and rework it into your own for a lot less money!
_______________________________________
The shape of the point is very important.
Equally important is the thickness of the pick material, and how the edge is shaped.
These days I prefer celluloid, particularly the stuff known as clownbarf
(or, politely, confetti, mosaic, or multicolor).
Years ago I was able to lay in some big sheets that are about .085" thick
(something like heavy or maybe a little thicker) that make great guitar picks for me.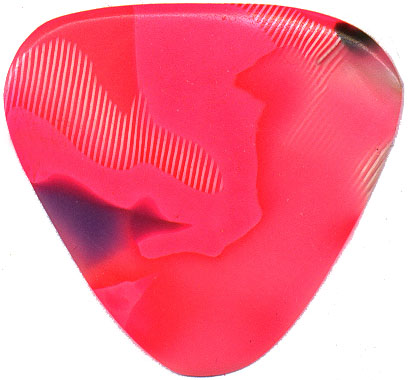 This one is right out of my pocket, much used and much loved. It's like
the Tortex, above, in terms of size. The points are about equal.
They are easy to spot when you drop them.
_______________________________________
The one below has three different shaped points, each yielding a slightly different tone.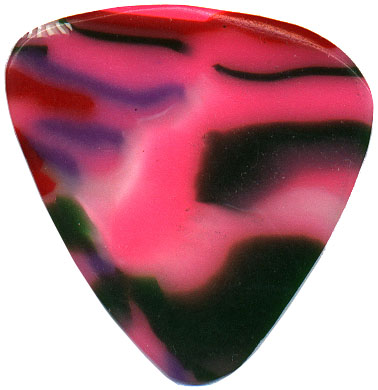 _______________________________________
John Pearse revived two old D'Andrea designs, the #351 and 352, in a single pick.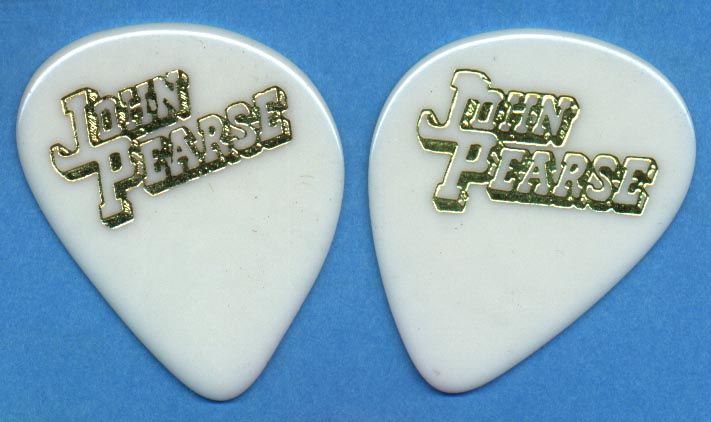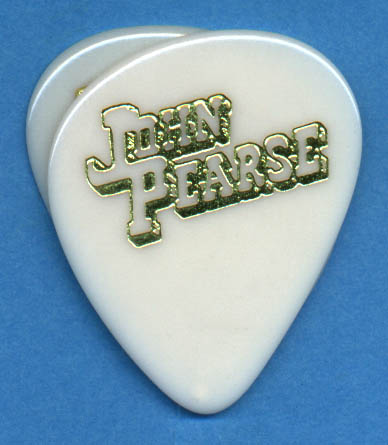 But if you blend the two, you get a large version of D'Andrea #348 above.
_______________________________________
If you like picks, you need to find yourself a copy of this wonderful book: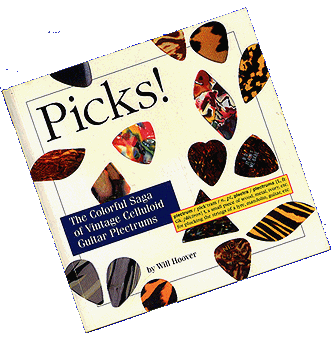 Will Hoover understands picks, and this book is a terrific resource. Keep your eyes open for a copy of this "must-have," it is published by Miller-Freeman, who also publish Guitar Player Magazine. If you can't find it at your local bookstore, get in touch, I have a few extra copies.

I have a page on clownbarf, but it's not for the faint of heart. Click here at your own risk.
And to go to a page about thickness, dressing edges, shaping points, click here.
Where can you get plastic sheet for making picks?
The easy-to-find celluloid is pickguard material which could once be gotten through many sources has beome harder to find. Axiom, Inc. still carries great celluloid. Thanks to post 9/11 Federal "hazardous materials" regulations, celluloid has become expensive because of a $tout "per shipment" hazmat fee, such that vendors like Stewart-MacDonald no longer carry celluloid anything. Nice thick stuff usually comes in tortoise and ivoroid, and of course in black and white. Some places that cater to the do-it-yrself electric guitar crowd sell other types of pickguard plastic such as pearloid. And it's always worth haunting eBay for things.


Cellulose nitrate is the old fashioned stuff, but lots of folks, eyeglass frame manufacturers for example, use the relatively less flammable celluloid acetate, which comes in every color of the rainbow and works equally well.

If you keep your eyes open, sheet turns up in strange places. Flea markets and junk shops occasionally have sheet, or recyclable things made of interesting plastic.

I get polyester sheet from commercial sign shops. Sign-grade polycarbonate is also good stuff for picks. Here's a source: www.sdplastics.com/shef.html

Pen makers and pipe makers supply places have various interesting plastics, usually in bars that are 3/4" square. Knife-maker's supply places also sell celluloid sheet for knife handles, as well as other types of plastic. www.texasknife.com/

Delrin (the Tortex stuff) is available, but I usually see it only in black and white. www.interstateplastics.com/ sells a 12"x12" sheet 1/8" thick for $13.



Delmar Products, Inc. in Connecticut has amazing stuff and supplies everyone else, but they are very difficult to work with unless you can pop a few thousand dollars for a minimum first order. Here they are anyway: http://www.delmarproducts.com





Slicing a sheet from a block:


Eat your heart out - they won't sell it to you.


Delmar Products, Inc. in Connecticut has amazing stuff and supplies everyone else, but they are very difficult to work with unless you can pop a few thousand dollars for a minimum first order. Here they are anyway: http://www.delmarproducts.com

D'Andrea gets good stuff because they can afford the enormous minimum orders from the makers or their wholesale dealers, but won't sell the sheet to little folks like you and me. Drat. Well, they have a nice website with a history here:. http://www.dandreapicks.com/about.htm

But!, here's a possible source for interesting celluloid: http://www.celluloid.com.cn/. I am led to believe that this is the current iteration of Mazzuchelli. They also have the ferocious minimum order no one can afford. But the quality is excellent. There are numerous celluloid manufacturing facilities in Shanghai.


Then there's this outfit: http://www.American Art Plastics.com/ They're all about pen blanks, but they're on the right track.


I regret to say that I have no ready sources for interesting plastic sheet, but regardless of that, you can still drop me a line, especially if you have a source you're willing to share with me (hope springs eternal)!
Drop me a line click here

More about making picks, about thickness, dressing edges, shaping points, click here.

---
This page © 2001- 2016 Paul Hostetter. All rights reserved.