---
---

For many years, my main man in Paris has been François Charle. He has a marvelous operation going there called R&F Charle, comprising a shop offering lutherie and restoration, a lot of very cool instruments, and an astonishing amount of information.


A link to Djangobooks.com, which I think is the best single place to get information about the burgeoning gypsy jazz scene, with forums, ads, reviews, you name it.


A vanished site about possibly the most influential luthier of the 20th century,
Luigi Mozzani.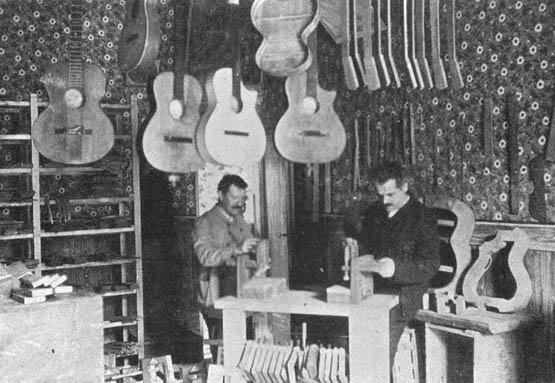 ---

How-to stuff, cont'd

How to make your own flatpicks and the wonders of garish plastic picks

---
Questions?

I often receive inquiries from folks wondering where they can learn guitarmaking, violinmaking and so on. When I began, there was virtually nothing available, so it was often a case of the blind leading the blind. Now we have an embarrassment of riches, in terms of books, videos, journals, luthier's guilds, schools, seminars and so forth. Probably the most significant advance in information is the internet.


Online Forums which really work:

Frets.net — hosted by Frank Ford
Mandolin Café — civilized and populated by a great many real experts
The Unofficial Martin Guitar Forum — vast and sometimes messy, but civilized too
Maestronet — for the violin crowd

To participate, you will need to register for each of these, of course. These are really the only public ones I find useful.

Organizations you should know about

There are three luthier's organizations I belong to and heartily endorse. One is approximately west coast, a non-profit, tax-exempt educational organization, another is approximately east coast and touts itself as a "Professional Luthier Organization," though many people - professional and otherwise - belong to both. The third one focuses entirely on bowed instruments, and now encloses the Catgut Acoustical Society. Each has occasional conventions, and produces journals.

Guild of American Luthiers
GAL
8222 South Park Avenue
Tacoma, WA 98408
Publication: American Lutherie
http://www.luth.org

Association of
Stringed Instrument Artisans
ASIA
asiartisans.org
Publication: Guitarmaker


The Violin Society of America
VSA
48 Academy Street
Poughkeepsie, NY 12601
Publication: Journal of the Violin Society
Email: membership@vsa.to
http://www.vsa.to/
The GAL site has a great list of schools and resources for
learning various aspects of lutherie here: www.luth.org/resources/schools
---

These are a few of my favorite luthiers, including some shops


---
---
Drop me a line or something: click here

---

This page © 2001-2018 Paul Hostetter. All rights reserved.